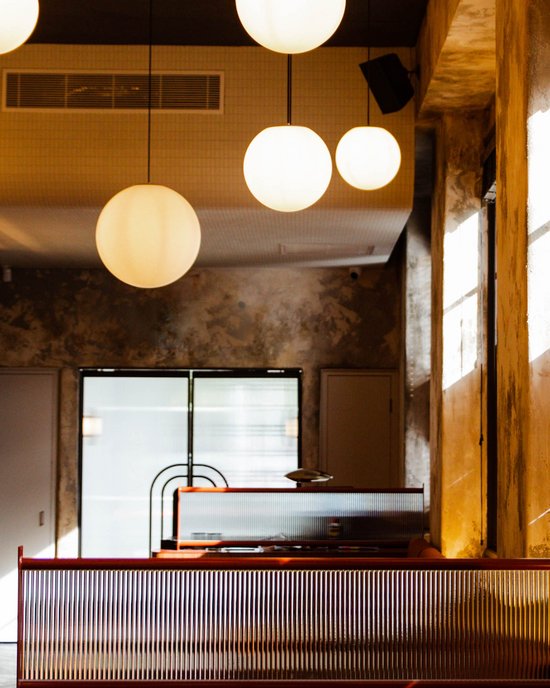 Editors' Preview Night at Moonhouse, the New Diner From the Team Behind Hanoi Hannah and Firebird
Before it opens to the public, be the first to dine at Moonhouse – the sleek new Chinese diner from the team behind Hanoi Hannah and Firebird.
Moonhouse is the highly anticipated new Chinese restaurant from the Commune Group, the team behind some of Melbourne's best contemporary Asian restaurants including Hanoi Hannah and Tokyo Tina. And it's opening exclusively for Broadsheet editors and Access members on Friday May 27 – four days before it opens to the public.
In a heritage-listed former bank building, you'll be the first to taste Moonhouse's menu over five innovative courses. But first, an exclusive Access cocktail: a vodka Martini made with Idle Hour unfiltered vodka and pickled grapes, or a namesake Moonhouse Negroni made with Melbourne Gin Company dry gin, Unico Zelo vermouth and savoury orange sorbet. You'll also get the chance to meet Moonhouse's head chef Shirley Summakwan (Tokyo Tina, Hanoi Hannah II) and Broadsheet Melbourne editor Tomas Telegramma will host an informal Q&A with Commune's creative director, Simon Blacher.
Expect contemporary spins on classic Chinese dishes, including crispy Hainanese chicken club sandwiches and reimagined prawn toast with prawn bisque dipping sauce. The dedicated wok section of the menu is a highlight with fried rice, soft shell crab tossed with garlic, black bean and pepper, and more.
There are only 65 seats available, and they'll sell out fast. Reserve your spot below. Tickets are $90 per person.
You can download the full menu here.
The Editors' Preview night at Moonhouse takes place at 282 Carlisle Street, Balaclava, at 7pm on Friday May 27.
Sorry, this event has now sold out. Want to be the first to be notified of any cancellations? Sign up to our waitlist and we'll contact you as soon as any tickets becomes available.