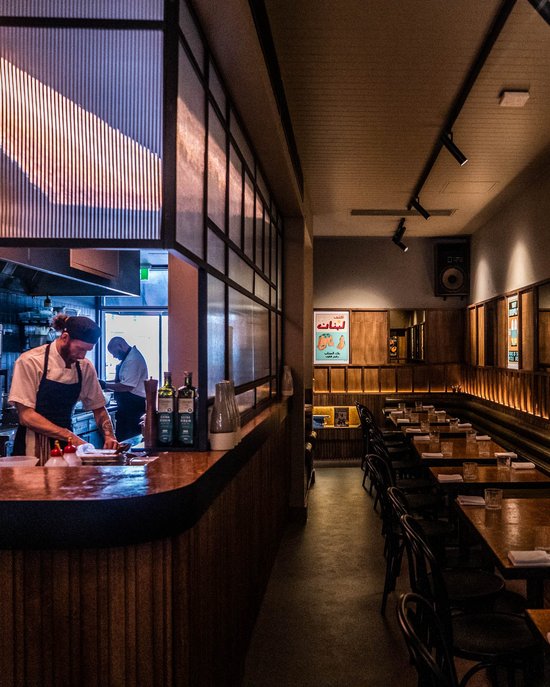 Book the Broadsheet Table at Maha Bar
Try a bespoke Middle Eastern menu at Maha Bar, tailored to your tastes – including dishes only available to Access members.
One of the city's most inventive Middle Eastern eateries invites you to feast on its best dishes, curated to your palate. Helmed by Shane Delia – the man behind Maha and Maha East – Maha Bar is a meze diner known for its focus on organic and biodynamic wines from across the globe.
At the Broadsheet Table, you'll be personally hosted by the head chef who will create a menu based on the tastes of your table. Expect updated versions of traditional Middle Eastern treats, including fried Turkish brisket borek buns and crab "shawarma" sandwiches with pickled chilli; 12-hour lamb shoulder, heavily spiced with baharat and sitting atop a roasted eggplant with lamb sausage and a date-and-lamb fat-sausage , plus a few off-menu dishes only available to Access members.
You'll also get the option to try the signature Pomegranate Sour from Delia's flagship restaurant, or imported bottles of raki and arak (anise-flavoured spirits), beer and wines.
This Maha Bar experience is exclusive to the Broadsheet Table. Limited spots are available until May 30 so be quick to make your reservation.
Thursday-Saturday (for 2 or 4): 7pm
Sign up to redeem
To unlock this offer, please sign up for an Access membership.
You can subscribe by clicking the red button above or If you already have a membership, you can log in to redeem.