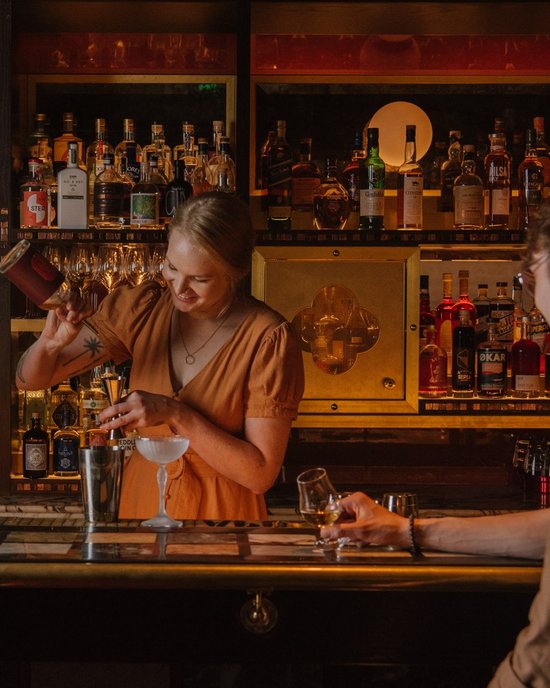 Offer
Book a Multi-Level Experience at Sydney's Hinchcliff House
Journey through all four levels of Circular Quay's Hinchcliff House, where you'll experience bubbles and snacks, a dedicated pasta course with matched wines, and tiramisu and cocktails at a moody subterranean bar inspired by The Godfather.
In a former wool store, Hinchcliff House delivers three unique venues for dining and imbibing: Grana, a bright all-day diner known for house-made pastries and pasta; Lana, a sophisticated yet casual Italian-Asian dining room; and Apollonia, a dimly lit drinking den.
With the Broadsheet Table, you can experience an Italian feast on each level.
Begin at Lana, where the head chef will personally serve you champagne and a snack flight. Expect mussels with saffron and old bay seasoning, delicate raw scallops topped with persimmon, and a moreish fish sanga.
Then move into Grana, where you'll try a pasta course of king prawn fusilli and rigati with pork and fennel ragu. But first, let the staff guide you through Grana's intricate pasta-making process (there's a flour mill in-house). You'll also be served the restaurant's signature slow-cooked lamb shoulder and salsa verde, smoked cauliflower with black barley salad, and more. Each course will be carefully matched with local, sustainable and minimal-intervention wines.
Finish the night at Apollonia. Inspired by The Godfather's Bar Vitelli, it's got brass and gold trimmings and finishes throughout, and a focal bar with a swirled marble top. A tiramisu and your choice of cocktail (pick from a wheat vodka and Italian honey-liqueur number, a gin-based cocktail with mint and lavender, or a classic Negroni) will be waiting at your table. Hinchcliff's resident drinks expert will be on hand to chat about the inspiration behind each one.
Only Access members can get this experience at Hinchcliff House. Limited spots are available until, so be quick to make your reservation.
Sittings are for two or four, at 6pm on Tuesdays and Thursdays.