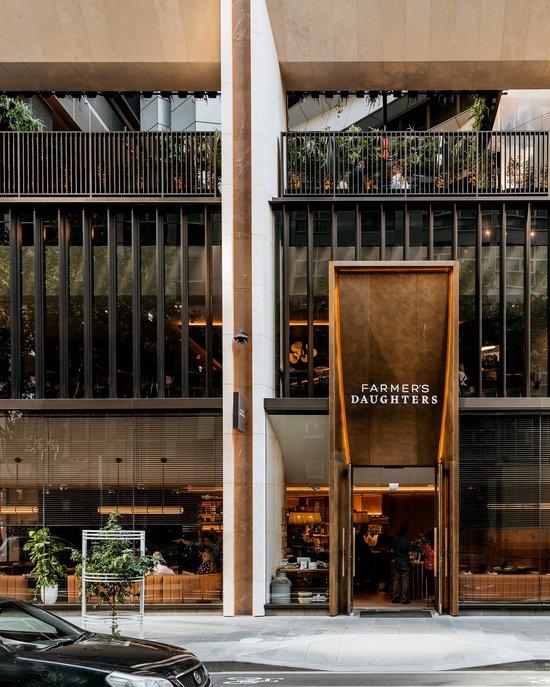 A Special Paddock-To-Plate Feast and Cocktails at Farmer's Daughters
Book a special, intimate table at Farmer's Daughters for your next date night or celebration. Experience some of Gippsland's best produce – all in the heart of Melbourne's CBD – over a rustic degustation and cocktails.
Farmer's Daughters is a three-storey love letter to Gippsland and its produce, headed up by celebrated Melbourne-based Peruvian chef Alejandro Saravia. Here, all the ingredients are sourced from farms around Gippsland and showcased in a farm-to-table set menu.
At the Broadsheet Table, we've saved you one of the best tables in the house – seated in a beautiful, intimate area of the restaurant, surrounded by timber fittings.
Start with a signature Farmer's Collins made with Gippsland vermouth, pink grapefruit and elderflower. Then, settle in for a five-course menu showcasing the best of the region's produce. Start with thickly sliced soda bread before moving onto baked Baw Baw alpine trout with mountain-pepper cream and trout caviar, dry-aged O'Connor rib eye, and a cuvee chocolate with quince and cheese mousse for dessert. You can also opt for a delicious bottle of wine from Farmer's Daughters' exclusive list.
Only Access members can book this experience at Farmer's Daughters. Limited spots are available until, so be quick to make your reservation.
Seatings are for two, at 6:30pm, on Tuesday and Wednesday.
Menu changes seasonally. Dietary requirements can be accommodated.
Sign up to redeem
To unlock this offer, please sign up for an Access membership.
You can subscribe by clicking the red button above or If you already have a membership, you can log in to redeem.