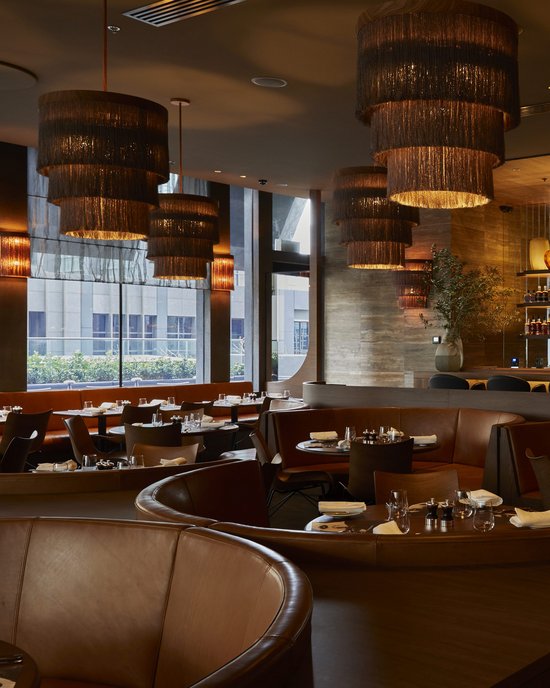 Book the Broadsheet Table at Society's Lillian Terrace
Earlier this year, Chris Lucas of Chin Chin and Kisume fame opened the vibrant yet elegant Lillian Terrace at Society.
Housed in the lavish 80 Collins Precinct, Society is what we'd consider 'extra' in the best possible way. Its more casual restaurant – the Lillian Terrace – is adorned in timber, tanned leather and soft, tasselled lights. Outside, find an L-shaped terrace that looks out onto the rooftops of Collins Street. There's a European style, constantly changing menu of inspired classics like oysters, delicate salads, handmade pastas, a charcoal-grilled Chateaubriand with truffle sauce and a by-the-slice tart selection. And plenty of champagne, too.
At the Broadsheet Table, you'll get an extra special, Access-only rendition of what Society and the Lillian Terrace has to offer. Enjoy a Lillian Cocktail or Caviar Martini direct from the Society dining room before being dazzled by the Broadsheet x Society tasting menu at the Lillian Terrace. Dessert is an event of its own: you'll be served Society's signature dish, Metropolis, alongside a taste of their sommelier's selection of wines. End the night with a tour of Society's kitchen and an introduction to the chef.
Book your Broadsheet Table at Society's Lillian Terrace through Access and see the magic for yourself. Be quick, limited tables available between 23 December and 29 January at the following times:
Thursday evening (2 pax) 7pm, 23 and 30 December 2021
Friday evening (2 pax) 7pm, 7, 14, 21 and 28 January 2022
Saturday evening (2 pax) 7pm, 18 December 2021, 1, 8, 15, 22 and 29 January 2022
Price $200 per person
Sign up to redeem
To unlock this offer, please sign up for an Access membership.
You can subscribe by clicking the red button above or If you already have a membership, you can log in to redeem.