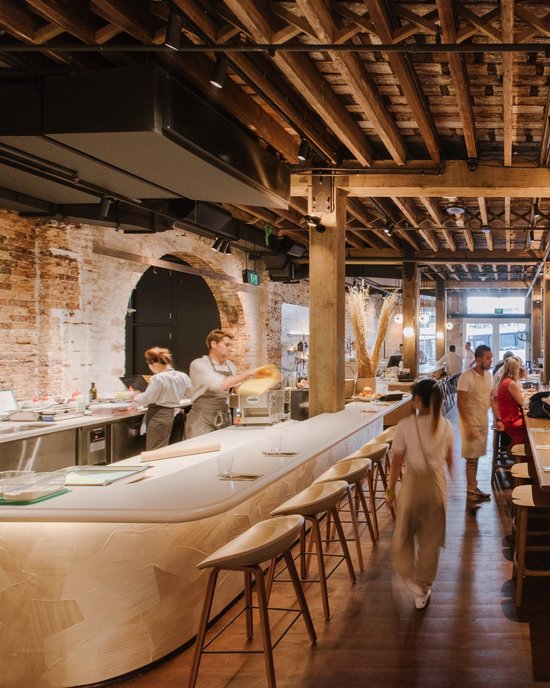 Book the Broadsheet Table at Sydney's Hinchcliff House
Exclusive to Access members, Broadsheet Table invites you and a friend to dine at Hinchcliff House like an industry insider.
At Sydney's Hinchcliff House you'll find four levels of unique dining and drinking experiences in a former wool store situated just off Circular Quay. There's Grana, a bright all-day diner serving house-made pastries, cocktails and kelp-infused pasta; Lana, a sophisticated yet casual dining room; and Apollonia, a moody basement bar inspired by The Godfather's Bar Vitelli where it's all about the drama. With Broadsheet Table, you'll spend an evening getting acquainted with all three of Hinchcliff House's unique venues.
Move into Grana to be served a pasta course featuring: gigli with king prawn and arrabbiata sauce; rigati with pork and fennel ragu; and Grana's house-made sourdough ciabatta with parmesan butter. Head chef Elliott Pinn will be there to talk you through Lana's pasta-making process. Then, be served a tantalising array of dishes: organic chicken, nduja, leeks, rocket and pesto; rolled boneless Magra lamb leg with green sauce, pistachio and yoghurt; smoked cauliflower, black barley salad and almond sauce; charred asparagus with garlic vinaigrette; and baby cos, salsa verde and aged goat's cheese. Hinchcliff House's "resident wine guy" Christian Blair will personally supply matching wines.
End your evening at an exclusive table on the raised dais at Apollonia, where you'll find tiramisu and a cocktail waiting for you. Cocktail champion Alissa Gabriel will be there to give insight into the inspiration and craft behind the mixes on offer.
Book your Broadsheet Table at Hinchcliff House for this bespoke experience. Be quick, limited tables available from January 5 to 29, 2022 at the following times:
Wednesday evening (2-4 pax) 6pm
Saturday evening (2-4 pax) 6pm
Sign up to redeem
To unlock this offer, please sign up for an Access membership.
You can subscribe by clicking the red button above or If you already have a membership, you can log in to redeem.