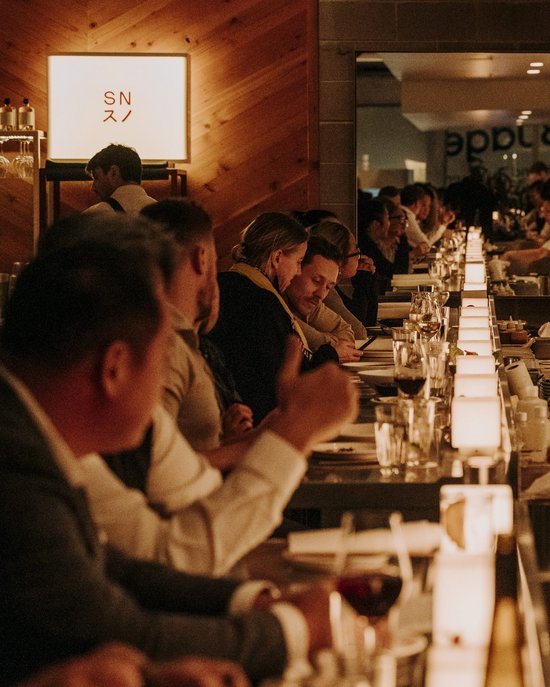 Book the Broadsheet Table at Supernormal
Broadsheet Table invites you and a friend to dine at Supernormal like an industry insider, exclusive to Access members.
Andrew McConnell's Asian-inspired restaurant Supernormal needs no introduction, being one of Melbourne's most loved restaurants. Beautifully executed, the design feels indisputably Japanese with a splay of neon cherries and even a snack vending machine. Food-wise, Supernormal is constantly reinventing its menu while never failing to impress with its signature dishes like New England lobster rolls and the famous peanut-butter parfait.
Be greeted on arrival with a sprightly seasonal cocktail to whet the appetite, then settle in for a culinary journey of vibrant flavours inspired by the land and sea. Whether you're seeking a menu tour of the classics with dumplings, buns and bao, or feel like exploring contemporary, limited edition dishes informed by Asia, Europe and Australia, the journey is all yours.
Once you've decided your path, Supernormal's experienced and passionate sommelier will design a beverage pairing around the flavours of your menu. You'll even get to take a Supernormal souvenir home with you at the end of the meal, to toast the good time you had dining at the restaurant.
Get ready for an in-depth experience of the Supernormal you know and love with the Broadsheet Table. Be quick, limited tables available at the following times between January 5 and February 22, 2022:
Wednesday (for 2-4): 6–8:30pm or 8:30pm–late
Saturday (for 2-4): 6–8:30pm or 8:30pm–late
Sunday (for 2-4): 12–2:30pm or 2:30–5pm
Sign up to redeem
To unlock this offer, please sign up for an Access membership.
You can subscribe by clicking the red button above or If you already have a membership, you can log in to redeem.